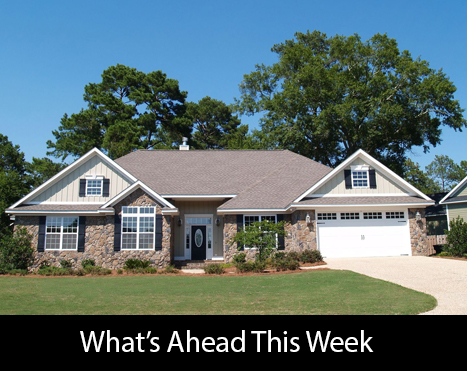 Last week's economic news included readings on home price trends, pending home sales and weekly readings on average mortgage rates and first-time jobless claims. The University of Michigan also released consumer sentiment report.
Case-Shiller Reports Slower Home Price Growth in June
According to Case-Shiller Home Price Indices for June, home prices gained an average of 2.10 percent year-over-year. This was the slowest growth of home prices since 2012. Analysts said that home prices grew at one-third the 6.30 percent that home prices grew last year.
Home prices grew fastest in Phoenix, Arizona with year-over-year growth of 5.80 percent; Las Vegas, Nevada home prices rose 5.50 percent and Tampa, Florida reported 4.70 percent growth in home prices.
West coast cities led home price growth in recent years when home prices were rapidly increasing, but growth has slowed and Seattle, Washington reported negative year-over-year growth of home prices in June.Potential obstacles to home price growth include rising materials costs due to tariffs on imported building materials and concerns over slowing economic growth.
Pending Home Sales Lower in July
The National Association of Realtors® reported fewer pending home sales in July as compared to June. Pending sales, which are defined as sales for which purchase contracts have been signed, but sales not closed, fell by -2.50 percent in July as compared to 2,80 percent growth in June. Real estate pros said that the peak home-buying season slows as summer progresses.
All four regions reported fewer contract signings for previously-owned homes in July; the Northeast reported -1.60 percent fewer pending sales, the Midwest had -2.50 percent fewer pending sales and the South reported -2.40 percent fewer sales contracts signed. The biggest dip in contracts signed was in the West with sales contracts -3.40 percent lower than for June.
Analysts and real estate pros expected falling mortgage rates to boost home sales, but current homeowners took advantage of low mortgage rates to refinance their mortgages as would-be home buyers were unaffected by low mortgage rates.
Mortgage Rates Mixed, New Jobless Claims Rise
Freddie Mac reported higher mortgage rates for fixed rate loans; rates rose three basis points on average for 30 and 15-year fixed rate mortgages. Rates for a 30-year fixed rate mortgage averaged 3.58 percent; the average rate for a 15-year fixed rate mortgage was 3.06 percent and 5/1 adjustable rate mortgage rates averaged 3.31 percent. Discount points averaged 0.50 percent for fixed rate mortgages and 0.40 percent for 5/1 adjustable rate mortgages
Initial jobless claims rose from the prior week's reading of 211,000 to 215,000 new jobless claims filed last week. Analysts expected 214,000 new claims to be filed. The University of Michigan's consumer sentiment index dropped to an index reading of 89.8 as compared to the expected reading of 92.3 and July's reading of 92.1. August's reading was the lowest measurement of consumer sentiment since 2012.
What's Ahead
This week's scheduled economic news includes readings on construction spending and data on public and private-sector jobs growth and the national unemployment rate. Weekly reports on mortgage rates and first-time jobless claims will also be released.